Merancang Panel Kontrol Untuk Pompa Air dan Motor Pengerak Solar Cell
Herisajani herisajani

Politeknik Negeri Padang

Nasrul nasrul

Politeknik Negeri Padang

Yandrika Putra

Politeknik Negeri Padang
Keywords:
solar module, water pump control panels, control panels and solar cell propulsion battery resilience.
Abstract
At this present time increasing electrical energy requirements, and therefore found the latest energy is solar energy. Solar energy can be harnessed as a potential alternative energy source because the energy is very large as well as environmentally friendly. Tool that can be used to convert sunlight directly into electricity is called photovoltaic. On the control panel to control the water pump on the motor control circuit design life turns automatically and manually. To control the timing of the displacement of the pump used to pump two timers. On the control panel of diesel propulsion sell used four times the displacement step. Switching time between steps in the set by a timer. The control panel uses the same circuit with the motor circuit alternating rounds.
References
Hasan Hasnawiya. 2012. Perancangan Pembangkit Listrik Tenaga Surya di Pulau Saugi. Makasar: Jurnal Riset dan Teknologi Kelautan Volume 10.
http://energiterbarukanonline.blogspot.com/2012/10/menghitung-kebutuhan-tenaga-surya.html. rabu, 28 agustus 2013 16.17 WIB.
http://jurnal.untad.ac.id/jurnal/index.php/SMARTEK/article/download/438/375.(24 Oktober 2013. Jam 9.
Pagliaro Mario, Giovanni Palmisano, dkk. 2008. Flexible Solar Cell. Italy: WILEY-VCH.
http://duniatehnikku.wordpress.com/2011/10/05
arti-dan-fungsi mcbmccb.
http://my-smt.blogspot.com/2012/07/cara-kerja
relay.html.
http://bocahisonan.blogspot.com/2011/09/selector
switch.html.
http:// Cara Kerja Relay - Mengenal Lebih Dekat
SMT Yamaha.htm.
http:// DUNIA LISTRIK DAN ELEKTONIKA
SELECTOR SWITCH.htm.
http:// /NONO HARYONO Timer _ Penghitung
waktu.htm.
http:// Prinsip Kerja Relay.htm.
http:// TDR Time Delay Relay _ Timer.htm.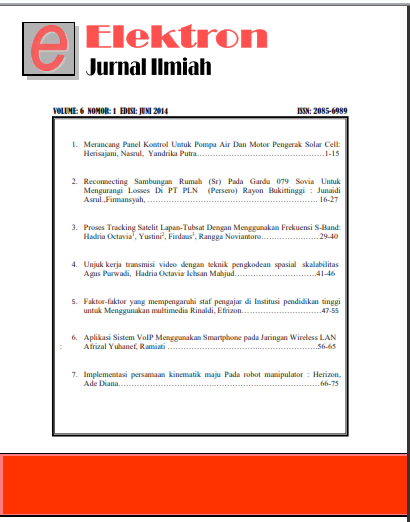 This work is licensed under a Creative Commons Attribution-NonCommercial-ShareAlike 4.0 International License.