Faktor-Faktor Yang Mempengaruhi Staf Pengajar Di Institusi Pendidikan Tinggi Untuk Menggunakan Multimedia
Rinaldi rinaldi

Politeknik Negeri Padang

Efrizon efrizon

Politeknik Negeri Padang
Keywords:
Multimedia, masalah penggunaan multimedia, institusi pendidikan tinggi, staf pengajar, penelitian deskriptif
Abstract
This study is a descriptive study of the application towards multimedia that conducted in higher institution, West Sumatera with the objectives of assessing the factors affecting multimedia application in higher institution lecturers. It employed a survey questionnaire to collect respondents' responses by using Likert-5 point type scales. It was conducted on 250 lecturers by using stratified random sampling from three types of higher institutions. Data collected and analyzed by using Statistical for the Social Sciences 19.0 (SPSS 19.0). Descriptive analysis shows that factors affecting multimedia application are limited amount of equipments, less support from the institution, no confidence in using multimedia for teaching, damaged equipments, insufficient time to prepare multimedia-based teaching materials, not enough salaries to assist in carrying out their duties properly, increased teaching workloads, ineffective multimedia training and no rewards or incentives from the institution for using multimedia in teaching.  As conclusion, this study can be used by the relevant authorities to take action in improving education.
References
Brymen, J. & Cramer, D. 2005. Quantitative Data Analysis with SPSS 12 and 13: A Guide for Social Scientist. Hove: Routledge.

Cuban, L. 1993. How Teachers Taught: Constancy and Change in American Classrooms. New York: Teachers College Press.

Hajar Mohd. Nor. 2005. Condition facilitating the implementation of information communication technology integration in the Malaysia smart school. Thesis. Universiti Putra Malaysia.

Herrington, J. & Herrington, A. 1998. Authentic assessment and multimedia: how university students respond to a model of authentic assessment. Higher Education Research and Development 17(3): 305-322.

Marcinkiewicz. 1994. Computers and teachers: factors influencing computer use in the classroom. Journal of Research on Computing in Education 26(2): 220-237.

Mayer, R. & Moreno, R. 2003. Nine ways to reduce cognitive load in multimedia learning. Educational Psychologist 38(1): 43-52.

Melvina, Chung Hui Ching & Jamaludin Badusah. 2010. Sikap guru bahasa terhadap pengunaan teknologi maklumat komunikasi (ICT) dalam pengajaran di sekolah-sekolah rendah di Bintulu, Sarawak. Jurnal Pendidikan Malaysia 35(1): 59-65.

Mohamad Izham Mohamad Hamzah & Noraini Attan. 2007. Tahap kesediaan guru sains dalam penggunaan teknologi maklumat berasaskan komputer dalam proses pengajaran dan pembelajaran. Jurnal Teknologi 46(E): 45-60.

Mohammed Sani Hj. Ibrahim, Jamalul Lail Abdul Wahab, Mohd. Izham Mohd. Hamzah & Warnoh Katimah. 1999. Kajian keberkesanan perlaksanaan program latihan guru sekolah bestari. Projek Penyelidikan G9/99. Fakulti Pendidikan Universiti Kebangsaan Malaysia.
Mohd Aderi Che Noh & Rohani Ahmad Tarmizi. 2009. Persepsi pelajar terhadap amalan pengajaran tilawah al-quran. Jurnal Pendidikan Malaysia 34: 93 – 109.
Sheingold, K & L, M. 1990. Accomplished TeachersIintegrating Computers into Classroom Practice. New York: Bank Street College.

Zuraidah Saidon. 1998. Factor affecting the implementation of information technology in secondary schools within the Klang Valley. Tesis Sarjana. Universiti Malaya.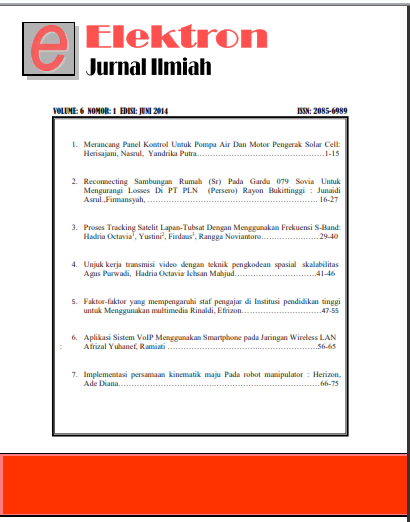 Section
Electrical Engineering Articles
This work is licensed under a Creative Commons Attribution-NonCommercial-ShareAlike 4.0 International License.