PENGATUR LAMPU LALU LINTAS SISTEM DIGITAL BERBASISKAN MIKROCONTROLER
Suryadi Suryadi

Politeknik Negeri Padang
Keywords:
traffic light, buzzer, prototype
Abstract
traffic light still uses analog system with discrete component. This technology has many disadvantages for example difficulty in maintenance and repair, display only to lamp without counter and no control for delay in normal hours or rush hours. These can be cause traffic jam and accident. To solve this problem, traffic light system is completed by digital system and buzzer using microcontroller AT89C51. The observation result to prototype at laboratory in Polytechnic State of Padang show this system can be implemented to real condition.
Downloads
Download data is not yet available.
References
Ibrahim, K.F., 2001, Teknik Digital Ed. I Yogyakarta : Andi
Malvino., 1994, Prinsip-Prinsip
Elektronika Ed. III, Jakarta : Erlangga
Putra, Agfianto Eko., 2004, Belajar
Mikrokontroler AT89C51/52/53 Teori dan Aplikasi Ed. II, Yogyakarta :Gava Media
Setiawan, Rachmad., 2006,
Mikrokontroler MCS-51 Ed.I,
Yogyakarta : Graha : Ilmu
http://www.fairchildsemi.com/ MC7805
http://www.innovativeelectronic.com
http://www.preliminarydatasheet.com/ISD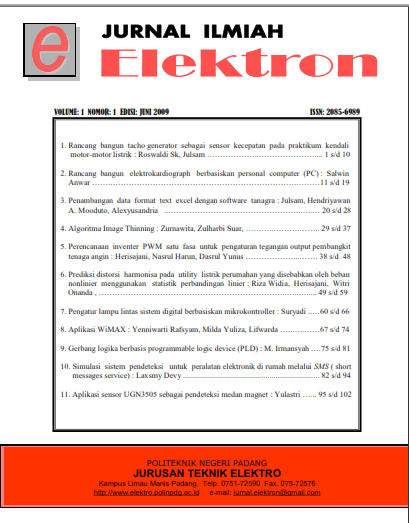 How to Cite
Suryadi, S. (2009, September 10). PENGATUR LAMPU LALU LINTAS SISTEM DIGITAL BERBASISKAN MIKROCONTROLER. Elektron : Jurnal Ilmiah, 1(1), 60-66. https://doi.org/https://doi.org/10.30630/eji.1.1.10