APLIKASI SENSOR UGN3505 SEBAGAI PENDETEKSI MEDAN MAGNET
Yulastri Yulastri

Politeknik Negeri Padang
Keywords:
hall effect, magnetic field, liquid crystal display
Abstract
Sensor UGN3505 using hall effect as magnetic field detection and magnet pole. Proportional value of voltage and magnetic field is accepted by sensor and controlling by microcontroler. This system produces parameter of the  magnetic power value which is displayed in LCD (Liquid Crystal Display)
Downloads
Download data is not yet available.
References
Eko Putra, Agfianto., 2004, "Belajar Mikrokontroller AT89S51/52/55 Teori dan Aplikasi" edisi 2.
Kenzie Mc., Scott L., "The Microcontroller,2nd edition", USA: Prentice Hall,Inc.
Setiawan, Rahmad., 2006, "Mikrokontroller MCS-51", Jakarta: Graha Ilmu
Intel, 1981," MCS-51 Family Of Single Chip Microcomputer Users Manual", Intel Corp,Santa Clara USA
Manual LCD.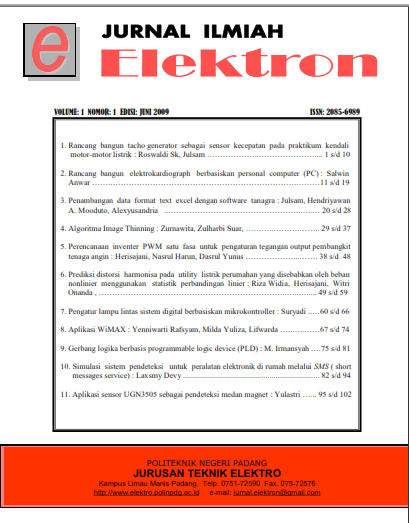 How to Cite
Yulastri, Y. (2009, September 10). APLIKASI SENSOR UGN3505 SEBAGAI PENDETEKSI MEDAN MAGNET. Elektron : Jurnal Ilmiah, 1(1), 95-102. https://doi.org/https://doi.org/10.30630/eji.1.1.14