PENGENDALIAN KECEPATAN MOTOR DC DENGAN METODA FUZZY LOGIC BERBASIS MIKROKONTROLLER
Nasrul Harun

Politeknik Negeri Padang
Keywords:
Microcontroller, Pulse Width Modulation (PWM), Fuzzy Logic, DC Motor
Abstract
The Technology and information development involve production process in industries using microcontroller as a brain in control process. The number  of control process with microcontroller using Fuzzy Logic method to get the function as is needed. Motors DC are used in some  equipment as a driver, not only in small scale but also in huge scale. It used in low or high speed too. The way of controlled chosen depend on the function of DC motor movement. The another method is Pulse Width Modulation (PWM). This is an effective method to controlled DC motor. This method produces square pulses which have specific comparison between high pulse and low pulse. It is usual scale from 0% to 100%. In this research, both Fuzzy Logic method and Pulse Width Modulation (PWM) method base of microcontroller ATMega 8535, both are integrated to control lthe  DC motor speed.
Downloads
Download data is not yet available.
References
Ibrahim, Ahmad M.(2003)."Fuzzy Logic for Embedded System
Application." New York: Elsevier Science.


Kazuo Tanaka, Hua O. Wang (2001)."Fuzzy Control systems Design and Analysis." New York: Jhon Wiley and Son Inc.

Ross, Timothy J. (1997)."Fuzzy Logic With Engineering Applications." New York: McGraw-Hill Int.

Turner, Rufus P., Rutherford, Brinton L. (1993). "133 Rangkaian Elektronika." Jakarta: Elex Media Komputindo.

Wiyono, Didik (2007)."Panduan Praktis
Mikrokontroller Keluarga AVR Menggunakan DT-Combo AVR-51 Starter Kit dan DT-Combo AVR Exercise Kit." Surabaya: Innovative Electronics.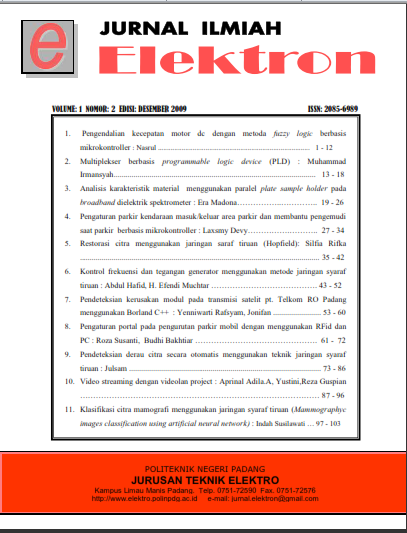 How to Cite
Harun, N. (2018, August 18). PENGENDALIAN KECEPATAN MOTOR DC DENGAN METODA FUZZY LOGIC BERBASIS MIKROKONTROLLER. Elektron : Jurnal Ilmiah, 1(2), 1-12. https://doi.org/https://doi.org/10.30630/eji.1.2.15