ANALISIS KARAKTERISTIK MATERIAL MENGGUNAKAN PARALEL PLATE SAMPLE HOLDER PADA BROADBAND DIELEKTRIK SPEKTROMETER
Era Madona

Politeknik Negeri Padang
Keywords:
Dielectric spektrometer, parallel plate capasitor, complex permittivity
Abstract
Dielectric spektrometer is used to measure complex dielectric function of material which depends on the frequency. The measured in domain frequency learn about movement of dipole's molecule and electric conductions in capasitor charging process. The most familiar measuring method of frequency area is parallel plat capasitor and four electrode system (V. Raicu et al, 1994). In this method, the measuring material is placed betwen two electroda in parallel place. This configuration produce a capasitor system which is possible to measure the complex impedance  of the capasitor sample. In this research, measuring and analyzing the material characterization are done in high frequence to design circuit and development of many material. Based on this reason, this reseach uses dielectric spectrometer system with HP Impedance Analyzer 4191ª RF and frequency 1-1000 MHz. Spectrometer can be used on complex permittivity to measure the compact material. The measuring result can be implemented in  high frequency range using phenomenological relaxation model. However, the accuracy of such predictions would need careful further study.
Downloads
Download data is not yet available.
References
Agilent – Basics of measuring the dielectric properties of material – Application Note

G.Bindu, A.lonappan,V. Thomas, C.K.Aanandan and K.T.Mathew, 2006 "Dielectric studies of corn syrup for application in microwave breast imaging", PIER 59, 175-186.

N.G.McCrum, B.E.Read, G.Williams, 1967 "Anelastic and dielectric effects in polymeric solids", London: Willey.

A. Schönhals, "Dielectric Spectroscopy on the dynamics of amorphous polymeric systems", Novocontrol, Application Note Dielectric 1

J.Mijovic, B.D.Fitz, "Dielectric spectroscopy of reactive polymers", Novocontrol, Application Note Dielectrics 2

Raicu.V, 1995 "A simple theoretical and practical approach to measuring dielectric properties with an open-ended coaxial probe", United Kingdom, Measurement science technology, 410-414.

Jaspard.F and Nadi.M, 2002 "Dieletric properties of blood: an investigation of temperature dependence", Physiological Measurement 23, 547-554.

Buff.P.Mark, Steer.Michael B, Lazzi.Gianluca, 2006 "Cole-cole dispersion models for aqueous gelatine-syrup dielectric composites", IEEE Transactions on geoscience and remote sensing, Vol. 44, No.2, 351- 353.
Shang, Jiyun, "Design and development of a LF dielectric spectrometer", University of Nottingham, Third year thesis, 2005
Patel, Sunit, 2003 "Simulation of the compression wave phase velocity of ultrasonic pulses transmitted through thermoset material during manufacture", University of Nottingham, Third year project thesis.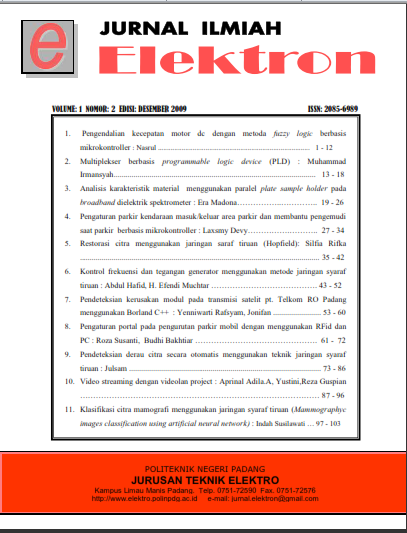 How to Cite
Madona, E. (2009, December 18). ANALISIS KARAKTERISTIK MATERIAL MENGGUNAKAN PARALEL PLATE SAMPLE HOLDER PADA BROADBAND DIELEKTRIK SPEKTROMETER. Elektron : Jurnal Ilmiah, 1(2), 19-26. https://doi.org/https://doi.org/10.30630/eji.1.2.17