PENGATURAN PARKIR KENDARAAN MASUK/KELUAR AREA PARKIR DAN MEMBANTU PENGEMUDI SAAT PARKIR BERBASIS MIKROKONTROLLER
Laxsmy Devy

Politeknik Negeri Padang
Keywords:
parking area, microcontroller, sensor, LCD
Abstract
Many parking area still use manual system such as ticketing, parking position, etc. Nowadays, this system can be control easier using microcontroller. In this control system, infra red and photodiode are used to inform when car come and out to parking area. Another sensor, ultrasonic, is used to help driver to park the car safely. Alarm will warn the driver if the position of the car broke the limitation of safety range to park. In another hand, the empty parking areas are display in LCD and related with portal which opened when the empty parking area still available and close if it full automatically. Microcontroller is used to control sensor, LCD and portal
Downloads
Download data is not yet available.
References
Putra, Agfianto Eko, 2002, Belajar
Mikrokontroller AT89C51. Gava Media , Yogyakarta.

Suhata ST., 2004, Aplilkasi Mikrokontroller Sebagai Pengendali Peralatan Elektronik Via Line Telepon. Elex Media Komputindo , Jakarta

http://www.tokoelektronika.com/tutorial/paralel.html
http://www.doc.ic.ac.uk/~ih/doc/stepper/control2/connect.html
http://www.atmel.com
http://www.batronix.com
http://www.google.com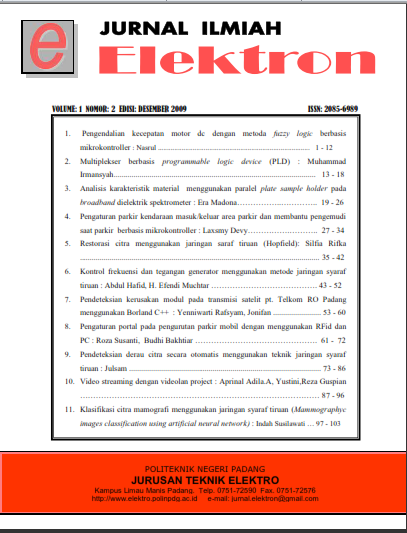 How to Cite
Devy, L. (2009, December 18). PENGATURAN PARKIR KENDARAAN MASUK/KELUAR AREA PARKIR DAN MEMBANTU PENGEMUDI SAAT PARKIR BERBASIS MIKROKONTROLLER. Elektron : Jurnal Ilmiah, 1(2), 27-34. https://doi.org/https://doi.org/10.30630/eji.1.2.18