PENDETEKSIAN KERUSAKAN MODUL PADA TRANSMISI SATELIT PT. TELKOM RO PADANG MENGGUNAKAN BORLAND C++
Yenniwarti Rafsyam

Politeknik Negeri Padang

Jonifan Jonifan

Universitas Gunadarma Jakarta
Keywords:
Modem IDR CDM 550, C , Interface RS-232 , error.txt
Abstract
Detection of module damage at satellite transmission designed to be able to detect damage of transmission equipment especially at satellite transmission of PT. Telkom RO Padang. Module detected is a modem IDR (CDM 550). The system is an output of modem that will be an input at PC where its detection using interface RS-232 and C++. So that, from communications between modem with PC resulting file error.txt. That file containing of damage status from modem. This Simulation expected to help the technician to detect the damage at satellite transmission equipment. This system more economical and give the best services to customers.
Downloads
Download data is not yet available.
References
http://dataaquisitonweb.com
http://dataaquisitionweb.com/datasheetandaquisitionweb
http://dataaquisitonweb.com/RS232standartaquisitiondata
http://dataaquisitonweb.com/signalsdataaquisition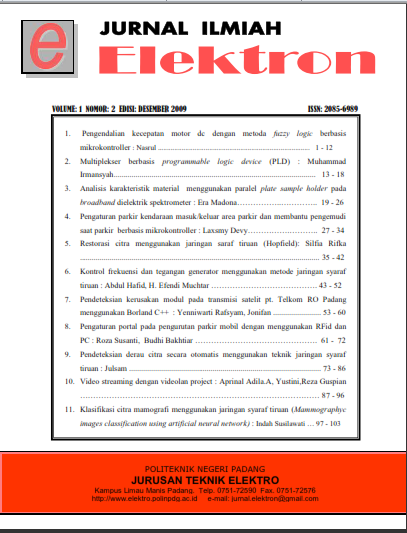 How to Cite
Rafsyam, Y., & Jonifan, J. (2009, December 18). PENDETEKSIAN KERUSAKAN MODUL PADA TRANSMISI SATELIT PT. TELKOM RO PADANG MENGGUNAKAN BORLAND C++. Elektron : Jurnal Ilmiah, 1(2), 53-60. https://doi.org/https://doi.org/10.30630/eji.1.2.21