PENGATURAN PORTAL PADA PENGURUTAN PARKIR MOBIL DENGAN MENGGUNAKAN RFId DAN PC
Roza Susanti

Politeknik Negeri Padang

Budhi Bakhtiar

Politeknik Negeri Padang
Keywords:
RFId, tag RFId, Visual Basic 6.0, Personal Computer, RS-232, AT89S51. Microcontroller
Abstract
The number of vehicles increasing day by day. It will trigger the demand of parking area, especially for car park. To overcome this problem, we offer a solution, by creating a miniatur car parking. This Car park  only for members whose can park their car in it. Each car will be equiped by a RFId tag (RFid card) and the RFId sensor (Radio Frequency Identification) which will detecting this card . The main function of the RFid card is to detecting every car come and go from the car parking area. The data are readed from the card need to be checked and verified with the database of  member identification (Id) by using Visual Basic 6.0 as the interface. The serial port RS 232 used as the interface to connect  RFId sensor and Personal computer. The program in AT89S51 microcontroller will control the motor rotation for opening or closing the parking area gate.
Downloads
Download data is not yet available.
References
http://agfi.staff.ugm.ac.id

http://www. geekhideout.com/iodll.shtm

Kustanto, Imam Budi. 2006. Tutorial Visual Basic 6.0 Membuat Program Logistik Barang. (WWW. IlmuKomputer.Com)

Prasetia, Retna, Catur Edi Widodo, 2004. .Interfacing Port Paralel dan Port Serial Dengan Visual Basic 6.0, ANDI, Yogyakarta.

Tooley, Mike. Rangkaian Elektronik, prinsip dan aplikasi.

Ramon Zamora, dkk. 2005. Sistem
Pengendalian Motor Stepper tanpa
kabel Berbasis Mikrokontroler at89c51. Jakarta.

WWW. Emmicroelectronic.Com. RFID Made Easy. 2002.
WWW.jonsanet.cjb.net
WWW.Petra.ac.id
WWW.proyek_akhir.tk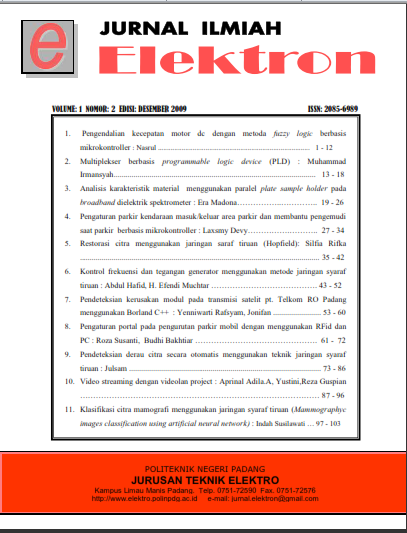 How to Cite
Susanti, R., & Bakhtiar, B. (2009, December 18). PENGATURAN PORTAL PADA PENGURUTAN PARKIR MOBIL DENGAN MENGGUNAKAN RFId DAN PC. Elektron : Jurnal Ilmiah, 1(2), 61-72. https://doi.org/https://doi.org/10.30630/eji.1.2.22