PEMANFAATAN MIKROKONTROLER AT89S51 SEBAGAI PENGGESER FASA PADA ANTENA ARRAY
Rikki Vitria

Politeknik Negeri Padang
Keywords:
Microcontroller AT89S51, Antenna, phase shifting, radiation pattern
Abstract
Utilization of microcontroller especially MCS-51 family has been widely implemented in various applications, such as control and telecommunications applications. One of them is the phase shifting array antenna in the telecommunication field. The Array Antenna was designed from some of dipole antenna.  Each element at dipole antenna has a different phase and can be controlled electronically. The phase shifting was done using AT89S51 microcontroller that functioned as an electronic switch on the transmission cable connection. The phase of the array antenna will be moved without moving the structure of the array antenna itself, so that the direction of radiation pattern can be changed in accordance with the phase shifting between the antenna elements.
Downloads
Download data is not yet available.
References
Andi Nalwan Paulus, Panduan Praktis Teknik Antarmuka Dan Pemograman Mikrokontroler AT89C51, PT Elex Media Komputindo, Jakarta, 2003
Firdaus, Ramiati, Ratna Dewi, Ahmad Dahlan, Pembuatan Penggeser Fasa (Phase Shifter) Gelombang Frekuensi Radio 700 MHz untuk Aplikasi Praktikum antena Arrray dan Radar, Jurnal Ilmiah Elektron, Vol.3 No. 1 Edisi Juni 2011.
Mackenzie Scott, The Microcontroller 8051, Prentice Hall, Englewood Cliffs, New Jersey, Columbus, Ohio, 1992
Firdaus dan Yulindon, Modul Ajar Teori dan Perencanaan Antena. -Politeknik Negeri Padang.
Liang Chi Shen dan Jin Au Kong. Aplikasi Elektromagnetik, 2001.
Robert R. Romanofsky, Array Phase Shifters: Theory and Technology, NASA, 2007.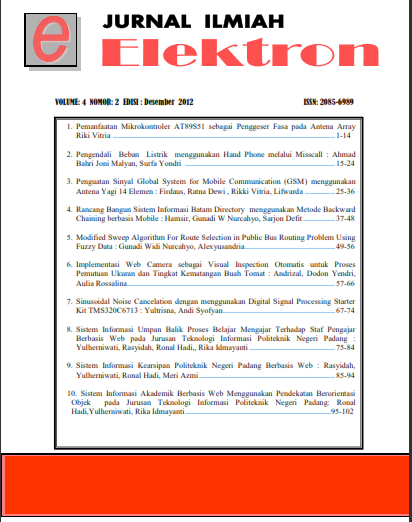 How to Cite
Vitria, R. (2018, August 22). PEMANFAATAN MIKROKONTROLER AT89S51 SEBAGAI PENGGESER FASA PADA ANTENA ARRAY. Elektron : Jurnal Ilmiah, 4(2), 1-14. https://doi.org/https://doi.org/10.30630/eji.4.2.27