PENGENDALI BEBAN LISTRIK MENGGUNAKAN HAND PHONE MELALUI MISSCALL
Ahmad Bahri Joni Malyan

Politeknik Negeri Sriwijaya

Surfa Yondri

Politeknik Negeri Padang
Keywords:
kendali, beban listrik, handphone, misscall mikrokontroller, modem, GSM
Abstract
An Electric Load Controller is a tool to make easier an implementation of repeated activities such as to turn on and turn off the electric load by using a hand phone as a controller. The controller aims to take into account problems related to control systems and to design a control system that can be implemented in the house hold in case of turning on and off electric loads. A user may turn on and off electric loads from a remote place easily. The design of control, microcontroller, relay, load and rectifier are applied on this research. Furthermore, a hand phone is used for the missed call feature and IC AT89S52 is used on the microcontroller design through BASCOM 8051 programming so as to make missed call feature can be transmitted to a destination number without manually turning off and on electrical devices at home.
Downloads
Download data is not yet available.
References
Heryanto, Ary. 2008. Pemrograman Bahasa C un tuk Mikrokontroler ATMega 8535. Andi. Yogyakarta
Khairurrijal. 2004. Teori dan Praktek Mikrokontroler MCS-51, Institut Teknologi Bandung.
Lingga, Wardhana. 2006. Mikrokontroler AVR Seri ATMega 8535 Simulasi dan Aplikasi. Andi. Yogyakarta
Putra, Agfianto Eko, 2004, Belajar Mikrokontroler AT89C51/52/55. Gava Media. jogyakarta.
Rachman. 2006. Aplikasi Teleakses Perangkat Bergerak. ANDI. Yogyakarta
http://kiswara.com/seputar-modem-wavecom-fastrack-67-19.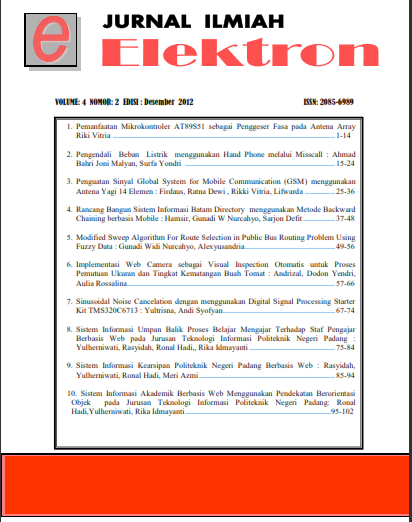 How to Cite
Joni Malyan, A. B., & Yondri, S. (2012, December 10). PENGENDALI BEBAN LISTRIK MENGGUNAKAN HAND PHONE MELALUI MISSCALL. Elektron : Jurnal Ilmiah, 4(2), 15-24. https://doi.org/https://doi.org/10.30630/eji.4.2.28