PENGUATAN SINYAL GLOBAL SYSTEM FOR MOBILE COMMUNICATION (GSM) MENGGUNAKAN ANTENA YAGI 14 ELEMEN
Firdaus firdaus

Politeknik Negeri Padang

Ratna Dewi

Politeknik Negeri Padang

Rikki Vitria

Lifwarda lifwarda

Politeknik Negeri Padang
Keywords:
handphone, yagi antenna, global system for mobilecommunication (GSM), radiation pattern, bandwidth, gain
Abstract
The hand phone provides an easy to communicate in domestic calls or international calls. The radiation pattern of yagi antenna leads to one direction. Therefore, this antenna is selected for   signal amplifier in global system of mobile communication. The design of 14 element yagi antenna which applied for signal amplification in the cell phones was conducted in this study. The design was done manually without computer software. The antenna was created using an aluminum pipe in 3/8 inch diameter for element and an aluminum beam for boom. The result showed that the operating frequency between the designed antenna and manufactured antenna are the same i.e. 947 MHz. The bandwidth of yagi antenna is 9 MHz. Moreover, the antenna gain which measured in folded antenna transmitter and BTS transmitter are 16 dB and 12 dB respectively. That result is caused differences in distance at the measurement time. Utilization of yagi antenna has succeeded to increase signal amplification in hand phone
Downloads
Download data is not yet available.
References
[1] Robert E Kenward. 2001. A manual for widlife radio tangging, London: Acdemic Press, hal.31

[2] Siagian Mangasih. Antena BTS. diakses dari http://www.scribd.com/doc/96833674/Antenna-BTS, Pada tanggal 2 agustus 2012 pukul 01.00 wib

[3] Alaydrus Mudrik. 2011. Prinsip dan Aplikasi Antena, Edisi Pertama, Jakarta : Graha ilmu

[4] Wibisono Gunawan dkk. 2008 Konsep dasar teknologi seluler, Bandung: informatika, hal.150-151

[5] Reithofer Sepp. 1997. Merakit Sendiri Antena Gelombang Mikro 1-75 GHz Termasuk Antena Parabola, Jakarta: PT Elek Media Komputindo, hal. 24

[6] Lesmana Y R. Jurnal Antena Yagi 2 m Band. diakses dari http://antena-usbmodem.blogspot.com/, Pada tanggal 1 agustus 2012 pukul 22.03 wib

[7] Rhodie, Cara Membuat Pigtail Modem Cdma/Gsm. diakses dari http://students amikom.blogspot.com/2011/11/cara-membuat-pigtail-modem-cdma/gsm, Pada tanggal 24 september 2012 pukul 14:40 wib.
[8] Jurnal Pola dan Model Keruangan Kualitas Penerimaan Sinyal Telepon Seluler di Kota Bukittinggi, diakses dari http://geografi.ui.ac.id/portal/sivitas-geografi/dosen/makalah-seminar/pola-dan-model-keruangan-kualitas-penerimaan-sinyal-telepon-seluler-di-kota-bukittinggi. Pada tanggal 19 desember 2012 pukul 15.00 wib.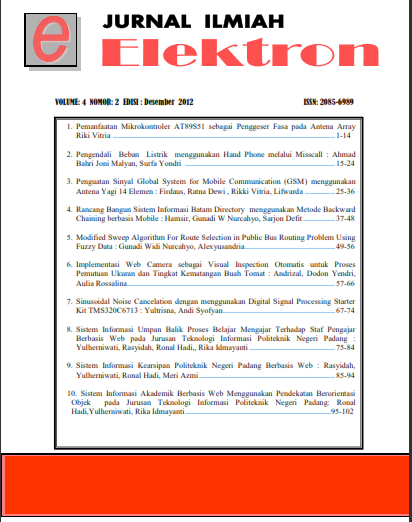 How to Cite
firdaus, F., Dewi, R., Vitria, R., & lifwarda, L. (2012, December 10). PENGUATAN SINYAL GLOBAL SYSTEM FOR MOBILE COMMUNICATION (GSM) MENGGUNAKAN ANTENA YAGI 14 ELEMEN. Elektron : Jurnal Ilmiah, 4(2), 25-36. https://doi.org/https://doi.org/10.30630/eji.4.2.29