IMPLEMENTASI WEB CAMERA SEBAGAI VISUAL INSPECTION OTOMATIS UNTUK PROSES PEMUTUAN UKURAN DAN TINGKAT KEMATANGAN BUAH TOMAT
Andrizal andrizal

Politeknik Negeri Padang

Dodon Yendri

Universitas Andalas

Aulia Rossalina

Universitas Andalas
Keywords:
Visual Inspection, pixel, color, classification.
Abstract
Quality and sorting is one method to classify an observed object and the end result of the inspection process. Quality and sorting can be done manually or automatically where quality and one manually sorting can be done by utilizing the human senses. Quality automatically requires certain tools such as the use of digital cameras to replace the sensory function of the human eye as a visual inspection. By using a digital camera, the camera capture object images obtained is processed via image processing, the processing system can be used as an automated visual inspection for the decision making process quality and sorting. The ability to recognize objects in the form of camera pixel component, can be used to determine the size and color, while the components can be used to determine the level of maturity. This system implemented as automatic visual inspection to determine quality tomato fruit size and maturity level. Results of testing this system is able to recognize 100% ripe tomatoes and 73% were able to recognize the young tomato fruit, the overall ability of the system to recognize the maturity level of the tomato fruit was 86.15%. While the tomatoes quality test based on class size with large, medium and small work 100%. Recognize the success rate of fruit maturity is greatly influenced by the current lighting objects tomatoes in camera capture. We hope this research can be used as input data for the next stage as the data input to the system pemutuan and automatically sorting tomatoes.
Downloads
Download data is not yet available.
References
[1]Adhi, Tria Wijaya dan Yudi Prayudi. 2010. Implementasi Visi Komputer dan Segmentasi Citra untuk Klasifikasi Bobot Telur Ayam Ras. Jurnal seminar nasionalaplikasi teknologi informasi (SNATI), http://scribd.com, Diakses tanggal 11 April 2012
[2]Achmad, Balza. 2005. Teknik Pengolahan Citra Digital Menggunkan Delphi. Jakarta
[3]Ahmad, Usman. 2005. Pengolahan Citra Digital & Teknik Pemrogramannya. Graha Ilmu, Yogyakarta
[4]Anonymous.Citra.Fttp://download.com/segmentasi/peng%20citra%20dgital.htm, Diakses tanggal 5 April 2012
[5]Anonymous. Landasan Teori. fttp://download.com/jbptunikompp-gdl-s1-2007-alanbudiha-6252-bab-ii/pdf, Diakses tanggal 2 April 2012
[6]Anonymous. Tanpa tahun. Pengolahan. http://download.com/ Segmentasi%20Citra%20for%2055721048-PengolahanCitra.htm, Diakses tanggal 5 April 2012
[7]Anonymous. 2007. Pengolahan Citra Digital. http://download.com/wikipedia-PengolahanCitraDigital.htm, Diakses tanggal 5 April 2012
[8]Anonymous. Tanpa tahun . Segmentasi Citra Digital .http://www.scribd.com/chickennita/d/79749059/60-Segmentasi-Citra, Diakses tanggal 25 April 2012
[9]Fadlisyah. 2004. Computer Vision dan Pengolahan Citra. Andi, Yogyakarta
[10]Gonzales, wood. 1993. Citra Digital dan Implementasinya. Erlangga, Jakarta
[11]Hestiningsih, Idhawati. 2009. Pengolahan Citra. http://www.google.com/--- idhawatihe-47-1-pengolah-a/pdf, Diakses tanggal 2 April 2012
[12]Herdy, Bagus Firmanto. 2011. Sukses Bertanam Tomat Secara. Angkasa, Bandung
[13]Heru, Yoyok. Perancangan Software Capture dan Segmentasi, Halaman 121-131. http://scribd.com. Diakses tanggal 26 April 2012
[14]Iswahyudi, Catur. 2010. Prototype Aplikasi Untuk Mengukur Kematangan Buah Apel Berdasar Kemiripan Warna. Jurnal Fakultas Teknologi Industri Institut Sains & Teknologi AKPRIND Yogyakarta. Tidak diterbitkan
[15]Jain, Anil K. 1989. Fundamentals of Digital Image Processing. Prentice-Hall International.
[16]Kusnaariyanto. 2011. Belajar Pemrograman Delphi. Modula, Bandung
[17]Pressman, Roger S. 2002. Rekayasa Perangkat Lunak Pendekatan Praktisi (Buku Satu). Andi, Yogyakarta
[18]Rangkuti, Haris dan Marimin. 2008. Analisis Citra Buah-Buahan Dengan Algoritma Fagin dan Threshold. Jurnal nasional aplikasi teknologi (SNATI). http://scribd.com. Diakses tanggal 2 April 2012
[19]Rijal, Yusron dan Riza Dhian Ariefianto. Deteksi Wajah Berbasis Segmentasi Model Warna Menggunakan Template Matching Pada Objek Bergerak. Jurnal Seminar Nasional Aplikasi Teknologi Informasi 2008 (SNATI 2008). http://script.com. Diakses tanggal 26 Arril 2012
[20]Sutoyo. 2009. Citra Digital. Graha ilmu, Yogyakarta
[21]Munir, Rinaldi. 2004. Pengolahan Citra Digital dengan Pendekatan Algoritmatik. Informatika, Bandung
[22]Tim Bina Karya Tani. 2009. Budidaya Tanaman. Yrama Widya, Bandung
[23]Thiang, Leonardus Indrotanoto. 2008 . Otomatisasi Pemisah Buah Tomat Berdasarkan Ukuran dan Warna Menggunakan Webcam Sebagai Sensor. Jurnal seminar nasional ilmu komputer dan aplikasinya (SNIKA). http://scribd.com. Diakses tanggal 11 Juli 2012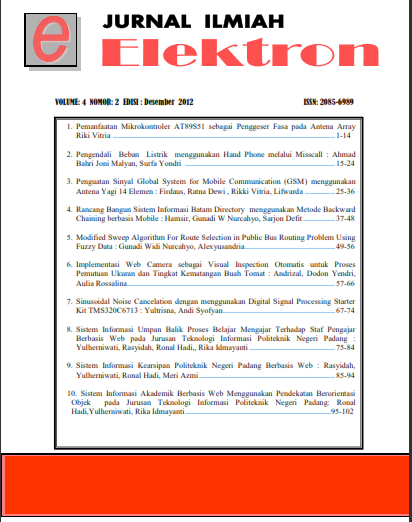 How to Cite
andrizal, A., Yendri, D., & Rossalina, A. (2012, December 10). IMPLEMENTASI WEB CAMERA SEBAGAI VISUAL INSPECTION OTOMATIS UNTUK PROSES PEMUTUAN UKURAN DAN TINGKAT KEMATANGAN BUAH TOMAT. Elektron : Jurnal Ilmiah, 4(2), 57-66. https://doi.org/https://doi.org/10.30630/eji.4.2.32