SISTEM INFORMASI UMPAN BALIK PROSES BELAJAR MENGAJAR TERHADAP STAF PENGAJAR BERBASIS WEB PADA JURUSAN TEKNOLOGI INFORMASI POLITEKNIK NEGERI PADANG
Yulherniwati yulherniwati

Politeknik Negeri Padang

Rasyidah rasyidah

Politeknik Negeri Padang

Ronal Hadi

Politeknik Negeri Padang

Rika Idmayanti

Politeknik Negeri Padang
Keywords:
System Information, Feedback Teaching and Learning, Web, PHP, MySQL Server
Abstract
Feedback Information System Teaching and Learning Against Web-Based Teaching Staff In the Department of Information Technology Padang State Polytechnic is an information system that receives feedback from the learning process of students to teaching staff in the form of questionnaires, to then process and provide the necessary information. This system can be accessed by many users at the same time. Users of this system consists of students, operators, administrator, and faculty leaders. The system is built using PHP programming language and MySQL database server. This system could make it easier, save time and reduce errors in entering, process and provide information on the results of data processing questionnaires. While limitations are only limited to faculty assessment only and limited to the processing of assessment ratio.
Downloads
Download data is not yet available.
References
Arifin, Zainal, 2011, Evaluasi Pembelajaran, Cetakan ke-3. PT Remaja Rosdakarya, Bandung.
Hartini, Sri dkk, 2010. Sistem Evaluasi Kinerja Institusi Pendidikan dengan Questionnaire Berbasis Web (Studi Kasus : Teknik Industri Undip), SNPPTI 2010 ISSN: 2086-2156 hal: 168-172.
Heryandi, Andri, 2012, Pembangunan Sistem Informasi Pengisian Survey Evaluasi Perkuliahan Online di Universitas Komputer Indonesia, Jurnal Ilmiah Komputer dan Informatika (KOMPUTA), Volume. I Nomor. 2, Bulan Oktober 2012 - ISSN :2089-9033 hal: 85-88.

Jogianto, H.M, 2005, Analisa dan Disain Sistem Informasi , Penerbit Andi Offset, Yogyakarta.
Kristanto, Andri, 2003, Perancangan Sistem Informasi dan Aplikasinya, Penerbit Gaya Media, Yogyakarta.
Kadir, Abdul, 2009, From Zero To A Pro, Membuat Aplikasi Web dengan PHP + Database MySQL, Penerbit Andi Offset, Yogyakarta.
Kadir. Abdul, 2008, Belajar Database Menggunakan MySQL, Andi Offset.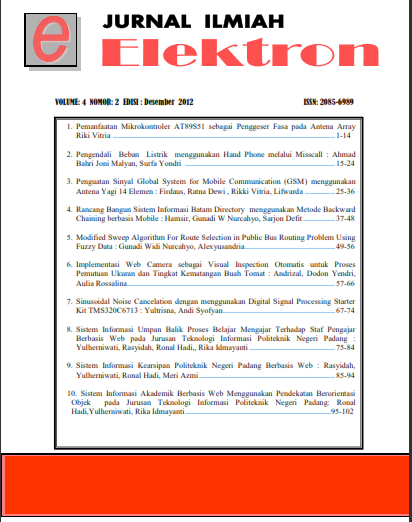 How to Cite
yulherniwati, Y., rasyidah, R., Hadi, R., & Idmayanti, R. (2012, December 10). SISTEM INFORMASI UMPAN BALIK PROSES BELAJAR MENGAJAR TERHADAP STAF PENGAJAR BERBASIS WEB PADA JURUSAN TEKNOLOGI INFORMASI POLITEKNIK NEGERI PADANG. Elektron : Jurnal Ilmiah, 4(2), 75-84. https://doi.org/https://doi.org/10.30630/eji.4.2.34