SISTEM INFORMASI KEARSIPAN POLITEKNIK NEGERI PADANG BERBASIS WEB
Rasyidah rasyidah

Politeknik Negeri Padang

Yulherniwati yulherniwati

Politeknik Negeri Padang

Ronal Hadi

Politeknik Negeri Padang

Meri Azmi

Politeknik Negeri Padang
Keywords:
web based application,PHP, MySql
Abstract
The resulting of system is a web based application executed, it can be accessed by many users at the same time trough each on computer from browser by accessing the specified address. The users of this system consists of a head, department chairman, the general secretary of the department and administration of department, this system is build using PHP programming language and MySql database server. Advantages of this system is that it can save paper (paperless) and storage physical space. On this system can monitor incoming mail, incoming mail was processed, outgoing mail and letters that have been in the disposition that is in Polytecnic with available in online then this system becomes more effective performance and efficiently
Downloads
Download data is not yet available.
References
http://repository.ipb.ac.id/handle/123456789/33842
Pudji Muljono , MANAJEMEN ARSIP DENGAN SISTEM MODERN
http://ejournal.unud.ac.id/new/search.html
Rancang Bangun Sistem Informasi Persuratan dan Kearsipan Universitas Udayana menggunakan Paradigma Pemrograman Berbasis Objek, Gusti Agung Ayu Putri.
http://www.ebooklibs.com/word-documents/view.php?file=http://server-aplikasi.dephub.go.id
Petunjuk Penggunaan Aplikasi Sistem Informasi Persuratan Elektronik Berbasis Intranet, Pusat Data Dan Informasi Kementrian Perhubungan.
Abdul Kadir, 2008. Belajar Database Menggunakan MySQL, Andi Offset.
Abdul Kadir, 2002, Dasar Pemograman Web Dinamis menggunakan PHP, Penerbit Andi Offset, Yogyakarta).
HusniI, Pohan, 2002. SQL Tutorial, Informatika, Bandung ,
Jogianto, H.M, 2005, Analisa dan Disain Sistem Informasi , Penerbit Andi Offset, Yogyakarta.
Kristanto, Andri, 2003, Perancangan Sistem Informasi dan Aplikasinya, Penerbit Gaya Media, Yogyakarta.
Ronal Hadi, dkk. Tracer Study untuk Alumni Program Studi Teknik Komputer Politeknik Negeri Padang, Politeknik Negeri Padang, 2011.
Wahana Komputer, 2010, Panduan Belajar MySQL Database Server. Mediakita,.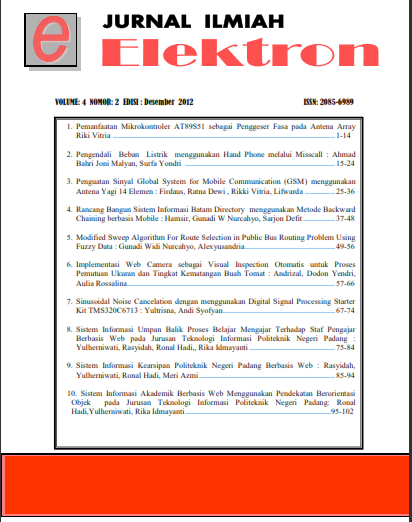 How to Cite
rasyidah, R., yulherniwati, Y., Hadi, R., & Azmi, M. (2012, December 10). SISTEM INFORMASI KEARSIPAN POLITEKNIK NEGERI PADANG BERBASIS WEB. Elektron : Jurnal Ilmiah, 4(2), 85-94. https://doi.org/https://doi.org/10.30630/eji.4.2.35