APLIKASI SENSOR NTC 47D-15 DAN SENSOR KELEMBABAN 808H5V5 PADA MESIN PENGERING DAUN SUNGKAI
Pola Risma

Politeknik Negeri Sriwijaya
Keywords:
NTC sensor 47D-15, Humidity sensor 808H5V5, Microcontroller ATMega 8535, Sungkai leaves
Abstract
Nowdays, the production of herbal medicines to industrial scale household progressively increased as the emergence of the phenomenon in the society for the re-use of natural medicines / herbal derived from plants as one solution to health. In order for the herbal medicines are not easily damaged and can be stored for a long time, the drying process is carried out at a temperature of 300C–90oC (Depkes RI, 1985). The herbal medicine used in this study is the Sungkai leaves which is dried using dryer that applies NTC temperature sensor 47D-15, 808H5V5 humidity sensors, and microcontroller ATMega 8535. NTC sensor 47D-15 serves to detect the temperature to be set at the desired range during the drying process occurs while the humidity sensor 808H5V5 detects moisture of Sungkai leaves after the drying process.
Downloads
Download data is not yet available.
References
Syahrul. 2012. Mikrokontroler AVR ATMEGA 8535. Bandung: Informatika
http://elektronikadasar.org/mengetahui-fungsi-transistor-sebagai-saklar/ diakses pada 14 Juli 2013, pukul 12.35
http://elektronika-dasar.web.id/wp-content/uploads/2012/01/Termistor.jpg diakses pada 3 Juli 2013 pukul 21.15
http://elektronika-dasar.web.id/komponen/sensor-tranducer/sensor-suhu-termistor/, diakses pada 3 Jui 2013 pukul 21.15
http://elektronika-dasar.web.id/teori-elektronika/daerah-saturasi-transistor/ diakses pada 14 Juli 2013, pukul 12.35
http://farmasibahanalam.files.wordpress.com/2010/08/5-a-penyiapan-bahan-baku-16-25.pdf, diakses pada 20 Juli 2013
http://id.wikipedia.org/wiki/Transistor, diakses pada 14 Juli 2013, pukul 12.35
http://www.ehow.com/facts_7492418_ntc-thermistor-work.html, diakses pada tanggal 14 Juli 2013, pukul 23.30
http://www.gemcs.com/download/appnotes/ntcn es.pdf, diakses pada 3 Juli2013 pukul 21.15
http://telinks.com/tag/relay-spdt/ diakses pada tanggal 15 Juli 2013 pukul 21.00
http://www.scribd.com/doc/139099985/Sensor-Kelembaban diakses pada 14 juli 2013 pukul 00:13
http://www.scribd.com/doc/97291557/Power-Window diakses pada tanggal 4 Juli 2013 pukul 22.30
id.wikipedia.org/wiki/transistor_darlington, tanggal 15 Juli 2012, pukul 00.11
www.elemenpemanas.co.id diakses pada tanggal 7 juli 2013 pukul 14.35
www.meriwardanaku.com diakses pada tanggal 11 Juli pukul 17.30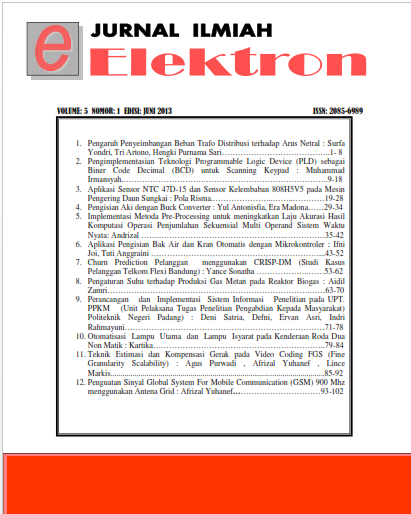 How to Cite
Risma, P. (2013, June 13). APLIKASI SENSOR NTC 47D-15 DAN SENSOR KELEMBABAN 808H5V5 PADA MESIN PENGERING DAUN SUNGKAI. Elektron : Jurnal Ilmiah, 5(1), 19-28. https://doi.org/https://doi.org/10.30630/eji.5.1.39