PENGISIAN AKI DENGAN BUCK CONVERTER
Yul Antonisfia

Politeknik Negeri Padang

era madona

Politeknik Negeri Padang
Keywords:
microcontroller, buck converter,sensor arus
Abstract
Buck converter is one of DC chopper which has the function of stabilizing the voltage to lower voltage where the output voltage is lower than the input voltage without having to remove power is relatively large. By using a buck converter is a high voltage can be reduced to lower as you wish without losing power is relatively large. The voltage output of the buck converter is able to charge the battery. The magnitude of the output voltage depends dutycyle switching generated by the microcontroller. This tool is also equipped with a flow sensor is used to detect the charging current into the battery. If the charging current is reduced, the buzzer will sound. The tool is based microcontrollers using BASCOM ATMEGA8535, which can generate a PWM with dutycyle specified. Dutycyle determined the size of the input voltage and the desired output.
Downloads
Download data is not yet available.
References
Wisnu.Adi. 1972. mikrokontroller ATMEGA 8535. UGM:Yogyakarta
Malvino. Albert Paul. 2003. prinsip-prinsip Elektronika, buku satu, penerbit Salemba Teknika: Jakarta
Winoto.Ardi. 2010. Mikrokontroller AVR ATMEGA8/32/16/8535 dan pemogramannya, edisi revisi, informatika: Bandung
Rusmadi. Dedy. 1987. Pengenalan dasar elektronika, jilid 1,2,3. Sinar baru Del Fajar Utama : Bandung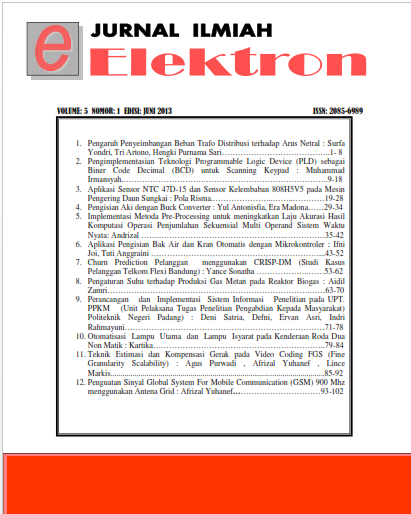 How to Cite
Antonisfia, Y., & madona, era. (2013, June 13). PENGISIAN AKI DENGAN BUCK CONVERTER. Elektron : Jurnal Ilmiah, 5(1), 29-34. https://doi.org/https://doi.org/10.30630/eji.5.1.40