IMPLEMENTASI METODA PRE-PROCESSING UNTUK MENINGKATKAN LAJU AKURASI HASIL KOMPUTASI OPERASI PENJUMLAHAN SEKUENSIAL MULTI OPERAND SISTEM WAKTU NYATA
Andrizal andrizal

Politeknik Negeri Padang
Keywords:
Real-Time, multi operand adder, pre processing.
Abstract
Real-time system works in a limited period of time in accordance with the deadline time given. The success of a real time system performance is determined by several time components such as release time, processing time and time deadlines. Problems arise when the processing time is not enough due to the delay factor deadline or other factors, while the deadline time has come and the process had to be stopped. When the process is stopped, the results obtained have not been enough to be used as the end result of data systems fail to meet the given time constraint. There are several ways to overcome this, one is to perform preprocessing before the end of the process is done. In the sequential preprocessing system multioperand summation of the operand-operand which can be summed sort operand-operand which has significant influence on the results done first. When the process had to be stopped due to a deadline is coming then the accuracy of the results produced may be used as the final result. This study utilized the method as a preprocessing ascend in sorting systems to sort operand-operand values to be summed from largest to smallest. The results show the accuracy of the rate of change of the summation process in accordance with the needs of real-time system when the process had to be stopped before the end.
Downloads
Download data is not yet available.
References
Andrizal. 2010, Analisis Kehandalan
Algoritma Perkalian Braun Array Multiplier Untuk Operasi Perkalian Waktu Nyata, Jurnal Elektron Jurusan Teknik Elektro Politeknik Negeri Padang.
Andrizal.2009, Kehandalan metoda MSB-P1 algiritma Shift-And-ADD Pada Operasi Perkalian waktu nyata, Poli Rekayasa,Volume 4.
Andrizal. 2005, Perancangan unit aritmatika perkalian waktu nyata algoritma Shift-And-ADD metoda MSB-P1, tesis, ITB.
Alan C. Shaw.2002,Real-Time Systems and Software, John Wiley & Sons.
Bruce powel Douglass 1999, Doing Hard Time: Developing Real-Time Systems with UML, Objects, Frameworks, and Patterns, Addison Wesley (1999).
Kuspriyanto, Kerlooza, Y.Y.2004. Toward New Real-Time Processor : The Multioperand MSB-First Real-Time Adder, Proceedings of DSD'2004 Euromicro Symposium on Digital System Design, Rennes-France, IEEE Computer Society.
Kuspriyanto,Kerlooza,Y.Y.2004 Keandalan Unit Multioperand MSB-First Realtime Adder Pada Operasi Penjumlahan Data Acak, Proceeding SITIA 2004, Seminar on Inteligent Technology and Its Applications, Surabaya, May 18th.
Levi, S.T., Agrawala, A.K.1990. Real-Time System Design, McGraw-Hill.
Winarno S, Jazi Eko I, Khabib Mustofa,
2010 Arsitektur Real Time System Sebagai Pemantau Jaminan QOS. Jurnal informatika Vol 6 No 2 Des 2010. Universitas Maranatha.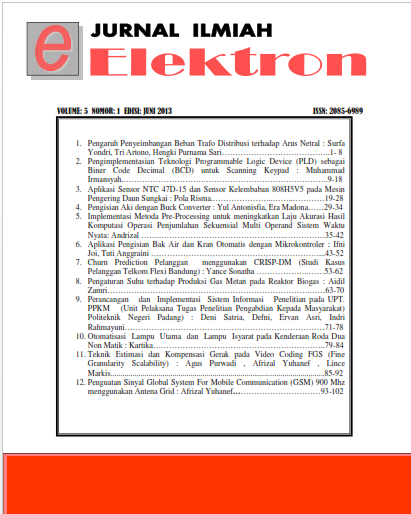 How to Cite
andrizal, A. (2013, June 13). IMPLEMENTASI METODA PRE-PROCESSING UNTUK MENINGKATKAN LAJU AKURASI HASIL KOMPUTASI OPERASI PENJUMLAHAN SEKUENSIAL MULTI OPERAND SISTEM WAKTU NYATA. Elektron : Jurnal Ilmiah, 5(1), 35-42. https://doi.org/https://doi.org/10.30630/eji.5.1.41