APLIKASI PENGISIAN BAK AIR DAN KRAN OTOMATIS DENGAN MIKROKONTROLER
Ifni Joi

Politeknik Negeri Padang

Tuti Anggraini

Politeknik Negeri Padang
Keywords:
Sensor Ultrasonic, Microcontrller AVR Atmega 8535, Relay, Selenoid valve
Abstract
At the last project had made System to fill t the Automaticc reservoir. This equipment used electrode sensor level such as cuprum which use to detection the high   water. Out put t his sensor will be proses by controller and controller  give relay instruction to solenoid valve. If the water lack of the level, Controller will be active the valve antil the reservoir full,  if the writer want the perfect equipment, the writer add the controller open close automatic valve. That worck is based on the distance of people to valve.  If the  distance of people  near to valve, so the  valve will open it self. As open loop controll system, valve use microcontroller AVR Atmega 8535 to Active the relay.
Downloads
Download data is not yet available.
References
Adi.wisnu.1972.mikrokontroller ATMEGA 8535 UGM:Yogyakarta
Malvino.Albert Paul.2003. Prinsip-Prinsip Elekronika, buku satu, penerbit Salemba Teknika : Jakarta
Rusmadi.Dedy.1987.Pengenalan dasar elektronika, jilid 1,2,3. Sinar baru Del Fajar Utama:Bandung
Winoto.Ardi.2010.Mikrokontroler AVR ATMEGA8/32/16/8535 dan pemogramannya, edisi revisi, informatika : Bandung
www.atmel.com
www.datasheetcatalog.com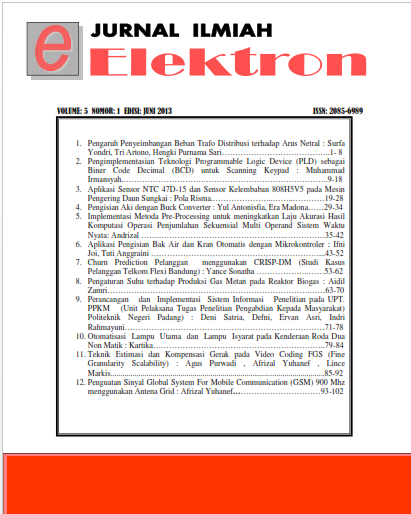 How to Cite
Joi, I., & Anggraini, T. (2013, June 13). APLIKASI PENGISIAN BAK AIR DAN KRAN OTOMATIS DENGAN MIKROKONTROLER. Elektron : Jurnal Ilmiah, 5(1), 43-52. https://doi.org/https://doi.org/10.30630/eji.5.1.42