CHURN PREDICTION PELANGGAN MENGGUNAKAN CRISP-DM (Studi Kasus Pelanggan TelkomFlexi Bandung)
Yance Sonatha

Politeknik Negeri Padang
Keywords:
Data Mining, CRISP DM, Churn Prediction, TelkomFlexi
Abstract
Nowadays, the need to stay ahead of the competencies is one of the company's focus. In an effort to stay afloat in the competitive conditions, companies can perform a variety of information technology development. One of the information technologies that are currently being intensively developed is the use of Data Mining. Data Mining provides benefits to process data into useful information for a company. The main pont of the research on this journal is to establish data mining models to  identify TelkomFlexi postpaid customers who have the possibility to move to another provider (churn analysis).Churn analysis is done so that the company can choose the most appropriate strategy in retaining customers. Type of data mining is used to churn analysis is classification.
Downloads
Download data is not yet available.
References
Andriansyah. 2005. "Metode Penyaringan Email yang Tidak Diinginkan Menggunakan Pendekatan Probabilitik". Seminar Nasional Aplikasi Teknologi Informasi 2005 pp. 19-23.
Holmes, G .et,al. 2008."Multiclass Alternating Decision Tree". Departemen of Computer Science University of Waikato. New Zealand.
Sunjana. 2010. "Aplikasi Mining Data Mahasiswa dengan Metode Klasifikasi Decision Tree". Seminar Nasional Aplikasi Teknologi Informasi. Yogyakarta.
Written, I. H. Dan Frank, E. 2005. "Data Mining : Practical Machine Learning Tools and Techniques 2nd edition". San Francisco : Morgan Kaufmann Publisher.
Kirkby, R. dan Frank, E. 2004. "WEKA Explorer User Guide for Version 3-4-3". University of Waikato.
Mandala, R. 2006. "Evaluasi Efektifitas Metode Machine-Learning pada Search-Engine". Seminar Nasional Aplikasi Teknologi Informasi, pp. G11-G16.
Nugroho, A.M., Handoko, D., dan Witarti, B.A. 2005. "Analisa Informasi Dimensi Tinggi pada Bioinformatika Memakai Support Vector Machine". Proc. of National Conference on Information & Communication Technology (ICT) for Indonesia/e-Indonesia Initiatives-II, pp.427-435.
Trisedya dan Jais. 2009. "Klasifikasi Dokumen Menggunakan Algoritma Naïve Bayes dengan Penambahan Parameter Probabilitas Parent Category". Fakultas Ilmu Komputer Universitas Indonesia
Yahdin. 2008. "Aplikasi Pengambilan Keputusan pada Perencanaan Produksi Berdasarkan Teorema Bayes". Media Informatika, 6(1), pp. 25-38.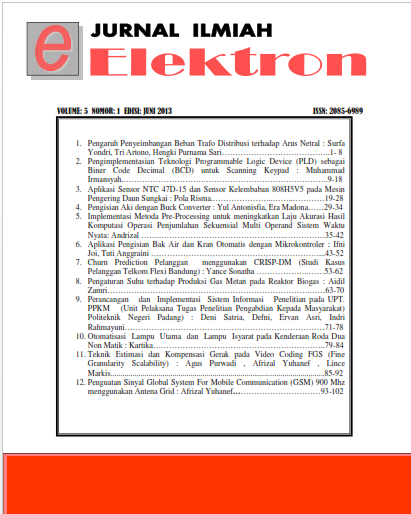 How to Cite
Sonatha, Y. (2013, June 13). CHURN PREDICTION PELANGGAN MENGGUNAKAN CRISP-DM (Studi Kasus Pelanggan TelkomFlexi Bandung). Elektron : Jurnal Ilmiah, 5(1), 53-62. https://doi.org/https://doi.org/10.30630/eji.5.1.43