PENGATURAN SUHU TERHADAP PRODUKSI GAS METAN PADA REAKTOR BIOGAS
Aidil Zamri

Politeknik Negeri Padang
Keywords:
gas methane, biogas reactor and temperature
Abstract
Biogas is a gas fermentation of organic materials which contain most of the gas methane, carbon dioxide, few of carbon monoxide, hydrogen, hydrogen sulfide, nitrogen and ammonia. One of technological development of biogas production is anaerobic reactor. The processing of biogas technology is influenced by several factors, such as temperature and humidity. In this study, temperature is adjusted using a spiral system and biogas reactor which submerged into the water. The temperature of water can be controlled. In another case there is reactor without temperature setting as a comparison. The observation shows that the reactor in the water produces most biogas, reactor spiral in second place and reactor without heating in the last one.
Downloads
Download data is not yet available.
References
Hadi,N.,1981.Gas Bio sebagai bahan Bakar, Lemigas,Cepu
Judoamidjojo, M., Darwis, A. A. dan Sa'id, E. G. (1992). Teknologi Fermentasi. CV Rajawali. Jakarta.
Kaltwasser, Bernd, 1980, Biogas ; Wiesbaden, FRG, pp. 35-36.
Khasristya Amaru, 2004. Rancangan Bangun dan Uji Kinerja Biodigester Plastik Polyethilene Skala kecil. Pertanian: UNPAD
Nurtjahya, Eddy, Dkk. 2003. Pemanfaatan Limbah Ternak Ruminansia untuk Mengurangi Pecemaran Lingkungan. Institute Pertanian Bogor: Bogor.
Said, Sjahruddin.2008.Membuat Biogas dari kotoran hewan. Jakarta: Bentara
Simamora, S. 1989. Pengelolaan Limbah Peternakan (Animal Waste Management). Teknologi Energi Gasbio. Fakultas Politeknik Pertanian IPB. Bekerjasama dengan Direktora Pendidikan Menengah Kejuruan. Dirjen Pendidikan Dasar dan Menengah, Departemen P dan K.
Simamora 2006. Meningkatkan kualitas Kompos. Agro Media pustaka. Jakarta.
Saputro, R.R.,2004,"Pembuatan Biogas Dari Limbah Peternakan",Undip Press ,Semarang.
Setiawan, A.Iwan. 1996. Memanfaatkan kotoran Ternak. Jakarta: Penebar Swadaya.
Sufyandi, A., 2001, "Informasi Teknologi Tepat Guna untuk Pedesaan Biogas",Bandung
Suyitno.2010.TeknologiBiogas, Yogyakarta, Graha Ilmu.
Tiratsoo, E.N., 1979, Natural Gas Fuel For Future? A World Survey, Gulf Publishing Company, Houston Texas, Third Edition.
Wahyuni sri, Mp. 2008. Biogas. Jakarta: Penebar Swadaya.
Yunus muchammad. 1991. Pengelolahan Limbah Peternak. Universitas Brawijaya, Malang.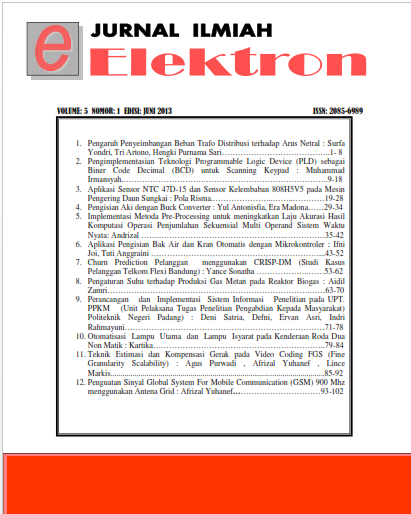 How to Cite
Zamri, A. (2013, June 13). PENGATURAN SUHU TERHADAP PRODUKSI GAS METAN PADA REAKTOR BIOGAS. Elektron : Jurnal Ilmiah, 5(1), 63-70. https://doi.org/https://doi.org/10.30630/eji.5.1.44