PERANCANGAN DAN IMPLEMENTASI SISTEM INFORMASI PENELITIAN PADA UPT. PPKM ( UNIT PELAKSANA TUGAS PENELITIAN PENGABDIAN KEPADA MASYARAKAT ) POLITEKNIK NEGERI PADANG
Deni Satria

Politeknik Negeri Padang

Defni defni

Politeknik Negeri Padang

Ervan Asri

Politeknik Negeri Padang

Indri Rahmayuni

Politeknik Negeri Padang
Keywords:
information systems, research, databases, PHP and MySQL.
Abstract
This study aimed to create an information system on UPT.PPKM Padang State Polytechnic where the system is initially UPT.PPKM are still using Microsoft Access to process data that existing research. So that would make it difficult for employees to process the data, find the data if necessary and to report the research itself.
The results of this study are expected to generate a summary report every major research, courses, lecturers so as to facilitate the search data related to research quickly. Making this system using PHP and MySQL
Downloads
Download data is not yet available.
References
Jogiyanto HM, Analisis dan Desain : Sistem Informasi Pendekatan Terstruktur Teori dan Praktek Aplikasi Bisnis, Yogyakarta : penerbit Andi, 2005.
Nugroho Adi, Konsep Pengembangan Sistem Basis Data. Bandung : informatika 2004.
Fatansyah, Buku Teks Komputer : Basis data. Bandung. Penerbit Informatika bandung. 2004.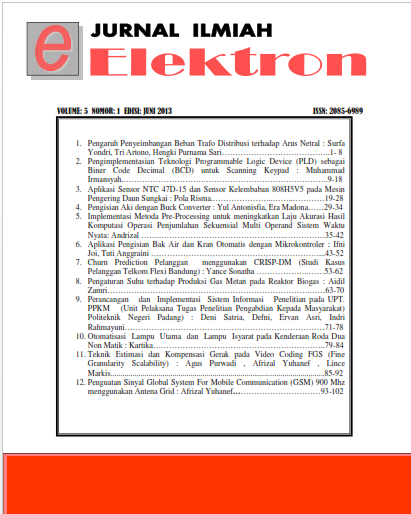 How to Cite
Satria, D., defni, D., Asri, E., & Rahmayuni, I. (2013, June 13). PERANCANGAN DAN IMPLEMENTASI SISTEM INFORMASI PENELITIAN PADA UPT. PPKM ( UNIT PELAKSANA TUGAS PENELITIAN PENGABDIAN KEPADA MASYARAKAT ) POLITEKNIK NEGERI PADANG. Elektron : Jurnal Ilmiah, 5(1), 71-78. https://doi.org/https://doi.org/10.30630/eji.5.1.45