RANCANG BANGUN ELEKTROKARDIOGRAPH BERBASISKAN PERSONAL COMPUTER (PC)
Salwin Anwar

Politeknik Negeri Padang
Keywords:
electrocardiograph, gain, AD624AD
Abstract
Electrical signals of body are chemical's respond of specific cell type. Electrocardiograph is used to record heart electrical activity which flow around the chest. This electricity flow is responded by sensor which acts as conductor. AD624AD is an instrument amplifier which is designed to transducer application with low level and pressure transducer. AD624AD has high precisions with low noise and input offside voltage less than 0,25 μV/0C. AD624AD not need pre-gain 1, 100, 200, 500 and 1000. An external resistor can be used to arrange the gain of AD624AD with level rating 1 up to 10.000 However, this equipment have input voltage to sensor 0,3 to 50 mV. The output voltage result from 1,6 to 5 volt using this amplifier.
Downloads
Download data is not yet available.
References
Sudono Agus,2004,Memanfaatkan Port Printer Menggunakan Delphi. Semarang :SmartBooks
Madcoms, 2003. Seri Panduan Pemrograman Borland Delphi 7 (Jilid 1). Yogyakarta : Andi Offset
Poetra, Abe.2003. Matematika Biner. Ilmu Komputer.com
Kadir, Abdul.2001.Dasar Pemograman Delphi 5 , Yogyakarta: Andi Yogyakarta
Igne Martina Ir, 2001, 36 Jam Belajar Komputer Delphi 5.0. Jakarta : PT. Elex Media Komputindo
Paramono, Djoko. 1999. Mudah Menguasai Delphi 4 (jilid 1). Jakarta: PT.Elex Media Komputindo.
Djoko Pramono. 1999. Mudah Menguasai Delphi 6.0 Jilid I. Jakarta. Komputindo.
Guyton and Hall.1997. Buku Ajar Fisiologi Kedokteran. Jakarta : EGC
J.F. Gabriel dr, 1996, Fisika Kedokteran.
Jakarta : Kedokteran.Jakarta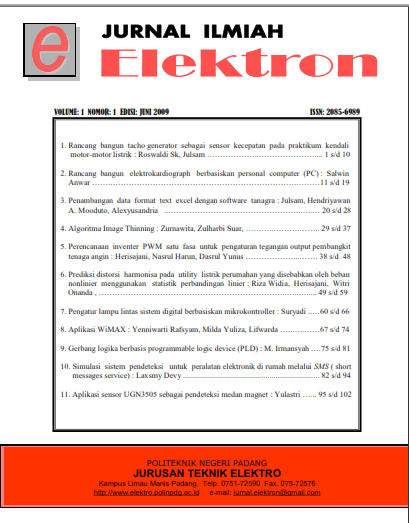 How to Cite
Anwar, S. (2009, September 10). RANCANG BANGUN ELEKTROKARDIOGRAPH BERBASISKAN PERSONAL COMPUTER (PC). Elektron : Jurnal Ilmiah, 1(1), 11-19. https://doi.org/https://doi.org/10.30630/eji.1.1.5