PERENCANAAN INVERTER PWM SATU FASA UNTUK PENGATURAN TEGANGAN OUTPUT PEMBANGKIT TENAGA ANGIN
Herisajani Herisajani

Politeknik Negeri Padang

Nasrul Harun

Politeknik Negeri Padang

Dasrul Yunus

Politeknik Negeri Padang
Keywords:
inverter, microcontroller
Abstract
Inverter as power circuit is used to change DC to AC voltage. In general, DC which can be changed by inverter is DC voltage with constant value, for example battery or accu. Inverter is design to changed non constant DC voltage which produced by wind power generator become constant ac voltage. In changing process from non constant DC voltage to constant AC voltage is controlled by microcontroller to simplify the design of inverter.
Downloads
Download data is not yet available.
References
D.Hart, "Introduction to Power
Electronics, 1997.Prentice-Hall
Rasyid, Muhammad H., 1993"Power
Electronic", Prentice-Hall
Salam, Zainal,2002. "Power Electronics and Drives"
Sugiyono,Agus,1988,Teknik Penghilangan Harmonisa pada inverter satu fasa dengan mikoprosesor sebagai pembangkit sinyal kendali",Tugas Akhir Jurusan Teknik Elekto,ITB
Schuler, Charles A, " Modern Industrial Electronics",1993. Singapore: McGraw-Hill
William Kleitz, "Digital And Microprocessor Fundamentals Theory and Applications.1990. Prentice-Hall
Anonim, "Boost converter",
WWW.kettering.edu/~bguru/DC2DC/Boost.html
Anonim, "introduction of inverter", WWW.kettering.edu/~bguru/PEInverters.html
Anonim, " WWW.majorpower.com "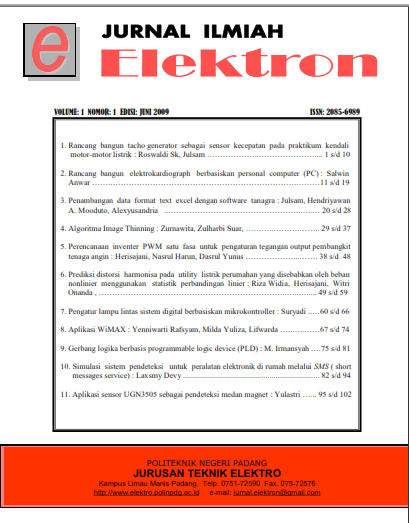 How to Cite
Herisajani, H., Harun, N., & Yunus, D. (2009, September 10). PERENCANAAN INVERTER PWM SATU FASA UNTUK PENGATURAN TEGANGAN OUTPUT PEMBANGKIT TENAGA ANGIN. Elektron : Jurnal Ilmiah, 1(1), 38-48. https://doi.org/https://doi.org/10.30630/eji.1.1.8